Installation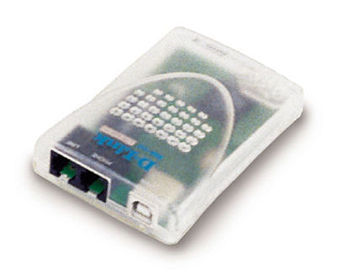 D-Link deserves major kudos by providing the best assortment of manuals I've ever come across. Count 'em - there are three manuals in the box. Normally this would allocate it in the same area as all the useless manuals that accompany a TV or VCR purchase. Remember, we are talking networking here. Even with networking products in so many homes and offices I don't consider their installation to be second nature for the average person. Yes, I review the manual with a new stereo or video component and I certainly look through them with networking components.
The first manual is a simple installation guide that covers seven languages. Next up is the MidPoint Lite software manual. We'll go further in depth with this software in just a minute. The last manual is the thickest and probably the most informative. The Quick Starter Guide once again covers the wiring connections that were discussed in the first manual and goes into a nice explanation of the protocol setup. MidPoint Lite allows the user to share the internet connection of one computer. This allows you to share your dialup and highspeed DSL or Cable connection. MidPoint Lite only needs to be installed on the computer with the internet connection and not every computer on the network. This optimizes the usefulness of PNA networking since there is a seamless connection to the internet for all the users on the network. Keep in mind that using a 56K dialup connection this way with several users could lead to some impressively slow connections at peak use.

Not interested in using MidPoint or wanting to interface the PNA network to your existing ethernet setup? The DHN 1000 Ethernet to HomPNA Bridge plugs right into that situation. One port is dedicated for the connection to the existing ethernet network and the other port is plugged into the PNA network. It is backwards compatible with the older HomePNA 1.0 standard for those of you who already have 1 MBps PNA adapters.
As mentioned earlier D-Link includes all the necesary cables and software to make their PNA solution work in either situation. I tried both installations and had trouble with neither. I preferred the installation with the DHN 1000 Ethernet Bridge since it interfaced more cleanly into my existing 100 MBps network and I didn't have to install the MidPoint software. MidPoint works surprisingly well but it creates one more possible area to troubleshoot if a problem should ever arise.