Altec Lansing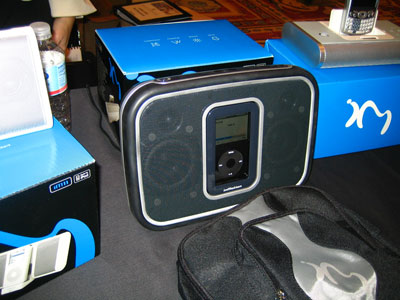 Now let's talk about how to get the most out of your IPODs! The brand new inMotion iM9 is Altec Lansing's latest portable speaker system. The iM9 was designed for the active, outdoor lifestyle. Rugged, yet refined, it's great for indoor use, too. I must say that I was quite impressed with this unit; the sound was crisp and clear at high volume levels. The suggested retail price is 199$.
Netgear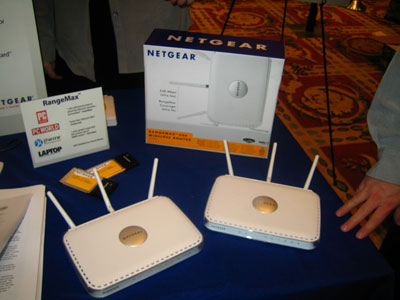 This is Netgear's brand new RangeMax 240 Wireless Router (WPNT834) incorporating MIMO technology with Adaptive Channel Expansion. It provides a data rate of up to 240Mbps when used with the RangeMax 240 Wireless Notebook Adapter (WPNT511) and USB 2.0 Adapter (WPNT121. In addition, it is compatible with and connects simultaneously to RangeMax 240, RangeMax, and all other 802.11b/g clients.
Linksys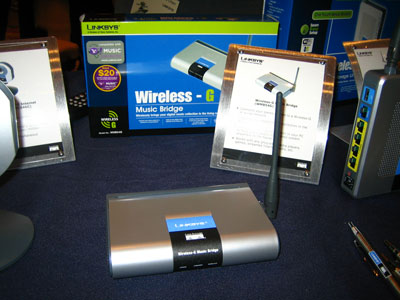 The WMB54G Wireless-G Music Bridge enables to wirelessly transfer PC audio output to a stereo or other speaker system located anywhere within the home.
A key differentiator of the Linksys Wireless-G Music Bridge is that users are not tied to using a particular music service to move music around their homes. Any sound that can be played by the existing speakers on a PC can be wirelessly streamed using the WMB54G. The product works as a virtual sound card that connects to a stereo or speaker system via traditional audio cables or optical digital connectors. Retail price of this product is 99$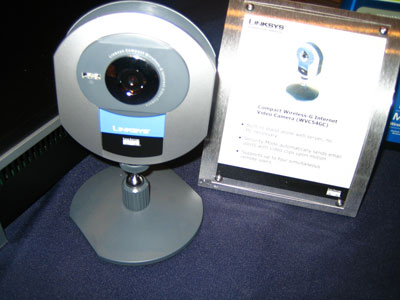 The Linksys WVC54GC Compact Wireless-G Internet Video Camera wirelessly connects to a home or small office network and distributes a live video stream through the Internet to a web browser accessible on virtually any Windows-based PC, enabling users to easily monitor their most important assets. Retail price of this product is 99$
SimpleTech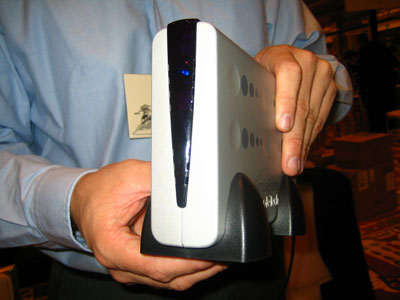 The compact SimpleShare drive caught our attention immediately. This drive comes in 160GB, 250GB and 400GB flavors. The unit connects via Ethernet 10/100 and in addition of being a simple network drive, it provides a built in USB print server. The included SimpleTech NASfinder wizard provides automatic network drive mapping and configuration for easy setup and quick plug-and-play installation. The unit comes with two USB 2.0 ports; giving you the option to add more space by connecting more USB drives.
Magellan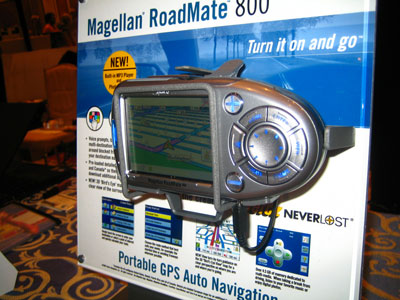 The RoadMate800 is Magellan's top of line GPS navigation and on the go multimedia system. It's preloaded with maps of the United States, Canada, Puerto Rico, US Virgin Islands and 27 European countries and nearly 7 million POIs. This unit comes with an internal 20GB hard drive with 4.5GB available space for music (MP3, WMA) and pictures. Data transfers are done via the USB 2.0 port. The 3D "Bird's Eye" map view feature enhances the turn by turn voice guidance with a full 3D representation of the road ahead.
Lunch@Piero's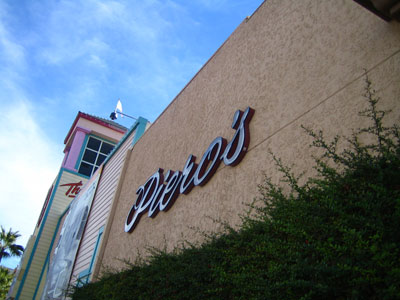 It become a tradition here at Target PC to visit the Luch@Piero's media event taking place two days during CES. It's a great occasion to make interesting new contacts with companies and chat with fellow media members.
ITuner (VoomPC)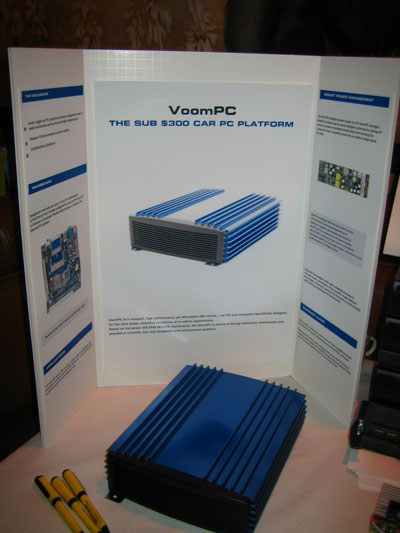 This unit is a computer system designed for cars. The VoomPC 'anti-thump' control will keep amplifiers turned off while the PC starts, eliminating annoying thumps and pops. Using the VIA VT1616 six channel audio chipset, the VoomPC brings 6-channel performance and a 3D sound experience to the car environment. The VoomPC is now shipping at an interesting low cost barrier with the barebones version ranging from $299 to $399.
Infill (A full car computer system)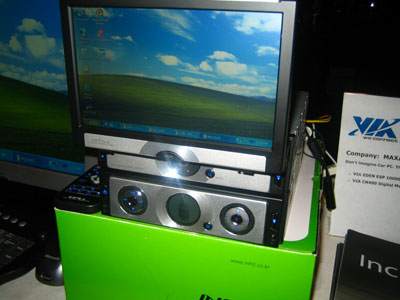 This attractive unit caught our eyes very fast. This product is a full touch screen computer system for the car. Features include a compact PC running Windows XP, A full navigation system, Video player (DVD, mpeg, divx) A full Radio with satellite radio support, Music station with 5.1 Surround support and a TV tuner. Three models are available, First the T3/T5 which is a Double DIN unit with screen and a control panel, the S3/S5 is single DIN unit very similar to its big brother but without the control panel, and at last the TM3/TM5 which is the basic version featuring the same options as the single DIN model but comes without screen. Every of these three models come with a choice of a VIA EDEN ESP 1000 (1GHz CPU) or an Intel Mobile Pentium-M 1.66GHz.