D-Link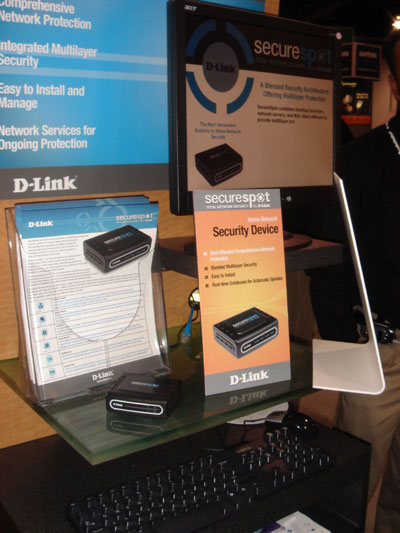 The securesport is an interesting all in one internet security device for home and small office networks. SecureSpot features a firewall, antivirus, intrusion detection, content filtering, pop-up and spyware killers into one device. Powered by BSecure Technologies, all product functions operate under one Web-managed system that provides protection for the home or small office network and attached Windows or OSX-based computers. This unit automatically updates and secures virus definitions, URL databases, spyware and spam server lists and all network tools.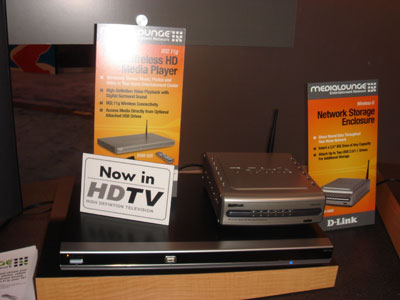 The DSM 520 is a wireless HD media player compatible with your existing home network using either 802.11g wireless or Ethernet cable. The unit features a HDMI connection in addition to the traditional optical and coax outputs. On the front you also find a USB 2.0 port to access USB flash drives or hard drives.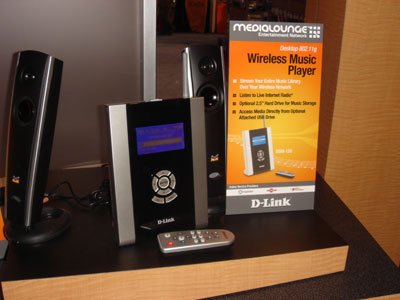 This little unit stands at a mere eight inches tall and an inch and a half thick. The DSM-120 let's you stream your music library over any 802.11b/g wireless or wired networks. In addition the DSM-120 can connect to internet radio stations and play streaming music. However, the most interesting feature of this product is the possibility to install a USB flash drive, USB hard drive or even an internal 2.5" hard drive and listen to the media on it without the presence of your computer.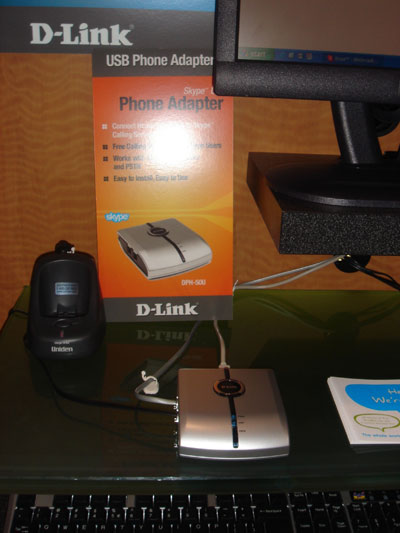 The D-Link Skype USB phone adapter lets users accept both regular telephone and Skype calls from the same phone for added flexibility. When consumers are talking on a traditional telephone line and receive an incoming Skype call, they can switch lines to take the Skype call or vice versa, just like a typical call-waiting feature.
Viewsonic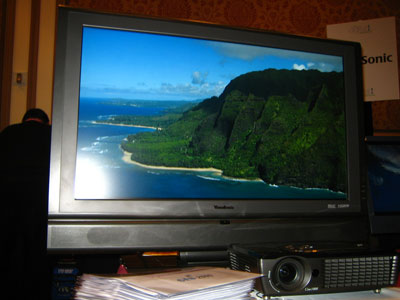 Viewsonic has been showing off their new NextVision 60 series LCD TVs. These stylish units feature an 8 millisecond video response panel and PixelWorks DNX advanced video processing technology. This line fully supports all HDTV broadcast signals including 1080i and 1080p. They are available in three different versions, 40 inches, 37 inches, and last but not least 32 inches. Estimated street prices are 1199$ for the 32", 1599$ for the 37", and 1999$ for the 40".
Motorola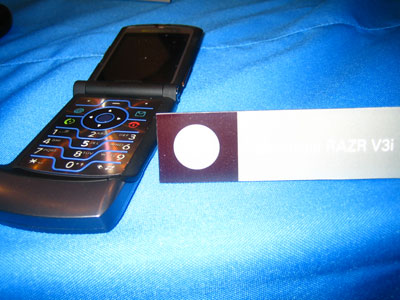 We don't even need to introduce you the Motorola Razr V3 phone, it's by far one of the most famous mobile phones of all times. While browsing the Motorola booth, we noticed the brand new model going under the new V3i codename. Both units share the exact same architecture; however the V3i features a 1.23 mega pixel digital camera with a full screen view-finder, zoom, and video capture and playback. The V3i already started shipping over the United States.

Iogear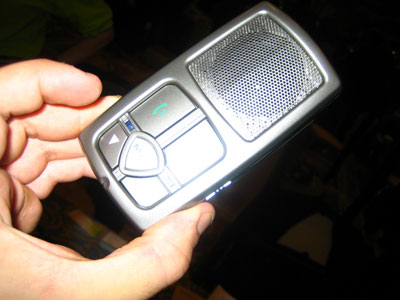 A very neat product that we found over at IOGEAR was this Car hands free Bluetooth device. You just mount it on your car visor and you're all set. Battery talk time is estimated at 10 hours and the standby up to 300 hours. The integrated buttons include pick up, hang up, volume up/down, and mute.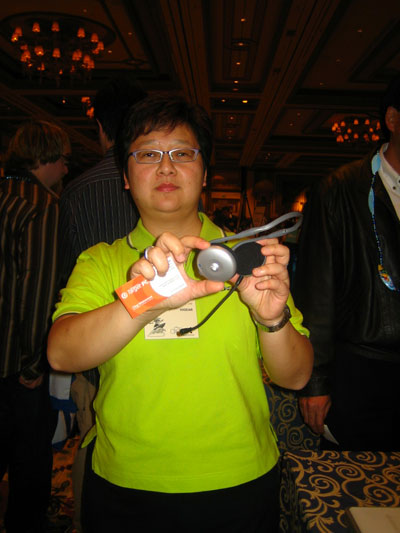 These IOGEAR stereo headphones are fully Bluetooth compatible. The kit comes with an included audio adapter enabling users to place or receive calls from any Bluetooth equipped cell phones. The unit comes with integrated buttons on the ear piece that lets you control the volume or different controls such as start, stop and pause. The headphones have a built in rechargeable battery delivering of up to six hours of talk time. This product can be used with anything from a MP3 player all the way to your home TV and the working range is estimated at 66 feet. The retail price for the kit is at 179$.