Consumers Electronics Show 2005 – Las Vegas
It became a big tradition here at Target PC to pack our bags twice a year for Las-Vegas. Once for Comdex taking place every month of November and then just two months later in January for CES.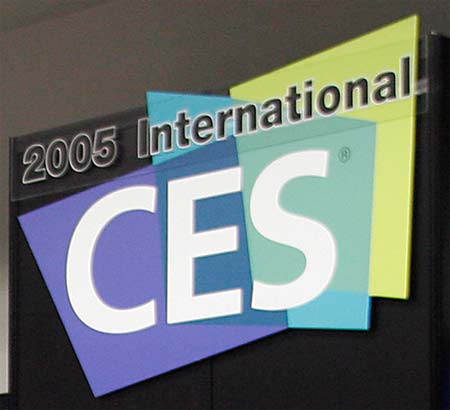 Two big shows focused at totally different markets. Comdex was of course the main event paying attention to the IT world and CES for the electronics market. With the cancellation of Comdex last year, hundreds of companies counting on the famous once a year event had to start looking elsewhere to keep their clients up to date.
For our regular readers, you most probably already know that the cancellation of Comdex didn't come by surprise. While the show was enormous during its existence, the few recent years dramatically put this event to its lowest attendance, mostly due to the several changes of owner ship and nothing less than weak management.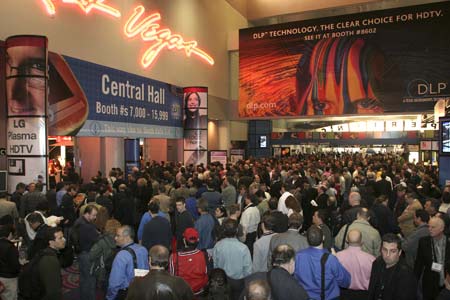 With CES being just two months later, most of the IT world has decided to go along with CES for their exhibitions. Quite frankly we didn't know what to expect of this year's event, mixing up the world of IT and Electronics could be an interesting yet confusing path to some people.
SONY
We we're quite impressed with this year's Sony presentation; they had one of the most brilliant ideas to date. Two pretty girls we're picking up people from the main entrance and inviting them to assist a 15 minute presentation in front of a big screen. The whole presentation was starting with a display of a blue garage door where just after it opens up and a short movie showing off Sony's latest products. At the end, all the lights turned off and a main light pointing out to a similar blue garage door on the right was slowly opening to the enormous demo room, quite a concept.
What caught our eye at their booth were their latest mobile phones. We had the chance to review their previous models over the past few months; we always liked their vision and concepts. I'm happy to say that their latest mobile line looks better than ever.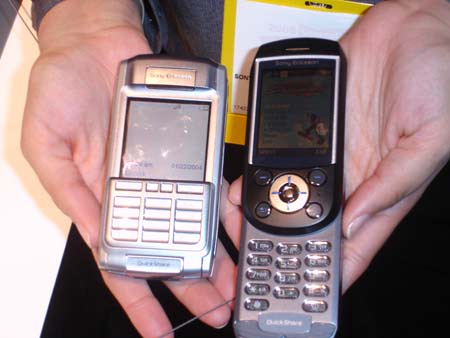 P910 (left) and S710a (right)
The new S710a is a small phone featuring a flip over display and an embedded 1.3 Mega Pixel Camera. We will be taking a closer look at this unit later on next month.
The P910a is the newer version of the P900 model. Main differences include an addition of a QWERTY keyboard on the back of the flip for text input.
SAMSUNG
LN-R570D – 57" LCD TV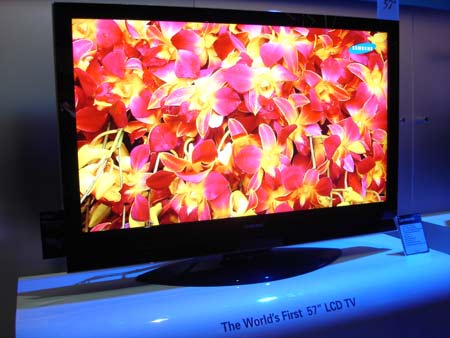 Samsung was showing off their 57" LCD TV. Supported resolution is 1920x1080 along with a 5000:1 Dynamic Contrast Ratio and a 8ms response time. Its one of the world's largest LCD TV in production.
Z102 – 102" Plasma TV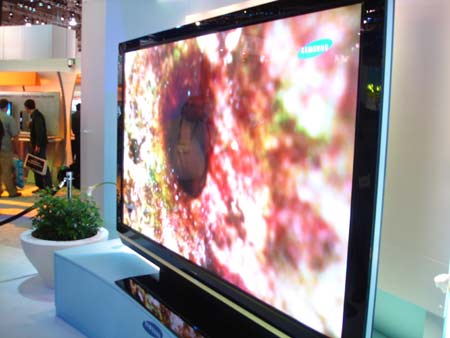 This product was getting some very big attention around the audience and it definitely caught our eye as well. This is a 102" Plasma screen. Maximal resolution of this unit is 1920x1080p full HD resolution. It features two TV tuners with split and picture in picture option and full connectivity for PC, DVI, HDMI and STB.
YP-MT6 – MP3 Player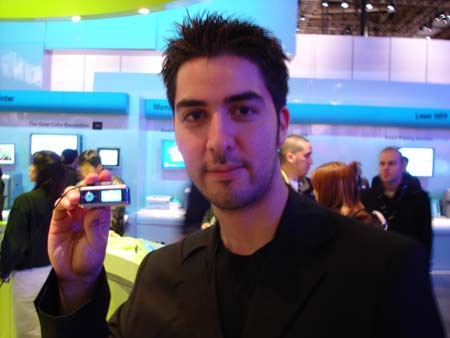 The MT6 Mp3 player comes in 256mb, 512mb and 1GB versions. The player supports OGG, MP3, WMA, Secure WMA, WAV and Audio SAF files. The product is USB2.0 compatible and has a playback time of up to 42hrs using a single AA battery.