StarTech TV Jockey
For the modest among us, it doesn't really make sense to have a separate computer monitor and a TV screen, when only one can replace both. Say hello to the StarTech TV Jockey. This nifty little device acts as a converter for TV signals to computer monitor signals and vice versa. It packs in a few extra features as well, including a remote control, multiple inputs and outputs. Let's see what the StarTech TV Jockey has to offer
Features

The Product

Compatible with NTSC (North America) or PAL (Europe) standards
Audio stereo output capabilities permits a connection to be made to external speakers
In addition, a connection directly to a computer's sound card "line in" socket is also possible through the use of the included stereo cable
Pure hardware design with no software or drivers required



StarTech
Approx. $99USD

7/10
Out of the box, the StarTech TV jockey comes with the unit itself, a 24-button remote control, an AC adapter and a compact stand. Although it does not include AV wiring, it does come with VGA and audio wires. The inputs on the TV Jockey include RCA audio and video, line audio, S-video, VGA and cable. The outputs are VGA (monitor) out, RCA video out, as well as a line audio output.
Setup is amazingly simple, and only involves hooking up appropriate inputs and outputs. No drivers are needed, and neither is a PC. We tried a few different setups on this system. First we watched cable TV into on our computer monitor through unit, and then tired DVD, through the S-video jack. Finally, we also tried the reverse, plugging and a digital camera and watching it simultaneously on TV and computer screen. Since both the Computer and TV signals must pass through the StarTech TV jockey, it is very simple to switch between the two, by using the "PC/TV" button. The unit itself is very compact, and convenient in its design; it can be placed horizontally or vertically on the included base. This shows that the makers did put some thought into making the StarTech TV Jockey compact, considering most of its users will need to save space.
The remote control is a perfect companion to this setup, and gives the user more of a "TV" feel when using the product. It allows access to features normally found on regular TVs, including changing channels, switching inputs, as well as the on-screen display, all from a safe distance. When watching cable, auto-scanning is available for tuning up to 181 NTSC and 106 PAL channels. Volume control is also on the remote control, and it changes the intensity of the speaker output (which should connect to powered speakers). Finally, the remote allows for the input to be changed from PC mode to TV mode and the other way around.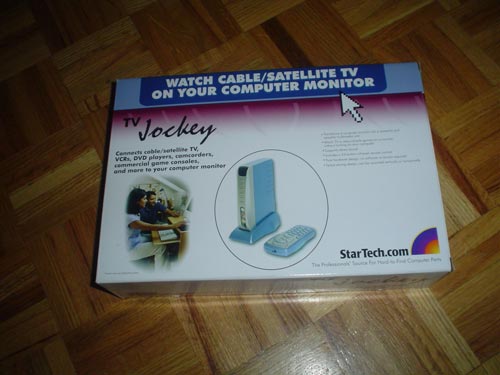 One aspect where the TV jockey fails to live up to our standards; however, is display quality; it is simply not up to par with a direct connection, or even ATI TV/video cards which I have previously tried (but it was close). The maximum supported resolution supported in NTSC mode is 858 X 525 @ 60Hz. It also seems as though some color richness and a bit of definition is lost in the process of conversion (when the TV signal is de-interlaced). Solid lines sometimes appear blurry (like ghosting). Although it should not be a problem for an average TV-watcher, it might bother some quality-philes. But then again, quality seekers are better off buying HD TVs if pure quality is what they're after.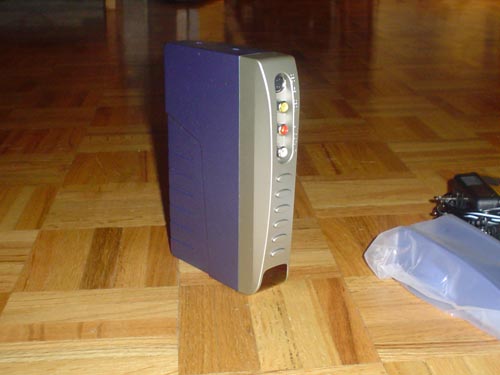 Second, what frustrated me was the quality of display when working in PC mode, which is below average as well. Since (in PC mode) the device should act as nothing more than a pass-through connector, going from VGA to VGA without being processed, I expected very little loss of quality. In practice however, there is quite a bit of distortion in the displayed images. The maximum supported resolution in PC mode is 640 X 480 at 60 Hz, which is quite low even compared to its competitors. First, there is significant ghosting around dark black objects, such as text. Second, colors appear dull and lifeless. I would definitely have trouble staring at the monitor for extended periods of time.
Contrary to video performance, however, the audio output from the StarTech TV Jockey is great. It produced very little distortion and good response at all frequencies. Of course you'll need to have good powered speakers or headphones to enjoy it.
Retailing at $99, the StarTech clearly sells for at least $50 less than its closest competitor "AVerMedia AVerTV Box ". It certainly has all the features one would want in an external TV tuner, but lacks some extras such as PIP (picture in picture) or a timer. The main drawback is image quality, which I would say is below average. Overall the StarTech TV jockey is best described as adequate and highly convenient, and is very fitting for tight situations.

Amit Rahman


04.03.12