More specs
One thing that struck me about the G450 was just how similar it sounded to the specs for the original G400 when it was released. I went and did some reading and what I came up with is this: the units are nearly identical except that the G450 is built on the 0.18 micron process while the original G400 was a 0.25 micron unit. A couple of things I also noticed were that the original G400 was available with either a normal single display or DualHead, and was available with 16 or 32 MB of memory. It's pretty clear that the G450 is an evolution on a very good design. Probably one of the biggest improvements I noticed was that the original G400 was equipped with 300 MHz RAMDAC memory while the new G450 is equipped with 360 MHz RAMDAC. What does RAMDAC do you wonder? Here's an answer straight from the Matrox site:
"An integrated DAC of 300 MHz or 360 MHz provides high quality analog output signals to ensure flicker-free displays and legible text at ultra-high resolutions and at the highest color depths, including 2048 x 1536 @32bpp."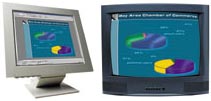 Want the crispest display possible? Then the RAMDAC will be important to you, especially if you rely on high quality 2D display. Matrox is famous for the having the best 2D display around and the G450 doesn't disappoint in this area. In the business world the ability to have very crisp text at high resolutions is important, especially when the system is being used for presentations. That's a no-brainer why this card is so ideally suited for business use. What may not be apparent is that this card features some pretty good performance for the dollar. But more on that later.
DualHead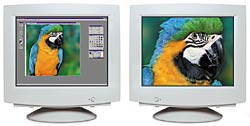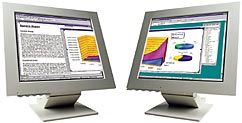 This is probably the biggest reason for buying the G450. While most boards that have an option for a second display will allow the addition of an extra monitor the G450 also gives the options of displaying to an LCD display, monitor, or even a television. Remember that dongle cable that was included when I searched through the box? If you decide to display to a television you will use it to hook up either to the S-video input of the television or it's RCA video input jack. What is also impressive is that the second display can show resolutions as high as 1600x1200. While a television can't display at those high resolutions an LCD display or monitor is certainly capable of it. That's more than enough resolution for the most demanding users. Imagine twin 19" or 21" monitors in front of you to do video work. Now imagine being able to display your work on one monitor and play a game or have another application on the second. It's all fully possible. I don't know that I would cut a spreadsheet or gragh across two monitors like in the picture above. It seems a little confusing to me but the sky is the limit here.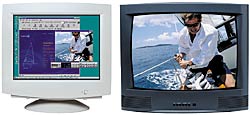 Matrox even throws in their own DVD software to allow you to watch movies on the second display (or the primary display). Its comparable to a lot of the DVD software out there and I had no problems using it to playback movies. Were I to choose between a DVD player for my home or a video card that could decode DVD movies with its software I would pick the DVD player. But that was never the intention with this card I think. Imagine being able to toss in a movie and add video to a presentation. Better yet, why not sneek off and enjoy a good movie on a television screen that is large enough for wide-screen enjoyment? Anyone who has spent enough time trying to watch DVD movies on a 15" or 17" monitor will understand how nice it can be to have a 27" or 32" second display to watch a movie on. Having this complete of a package adds a lot of flexibility.