Toshiba M30 Notebook series
Over the past month we had the chance to take a closer look at two different laptops. If you haven't had the chance to catch them, here's a small flash back. The first review was covering CICERO's extremely portable system while the other was on HP's Pentium 4 full size Notebook; a much bigger and less flexible system. While both of these products had their own positive sides, their targeted market was different. In this article we take the all new Toshiba M30-710 series notebook for a spin. The M30 series combine all of today's power features while at the same time maintaining an attractive small size.
The Product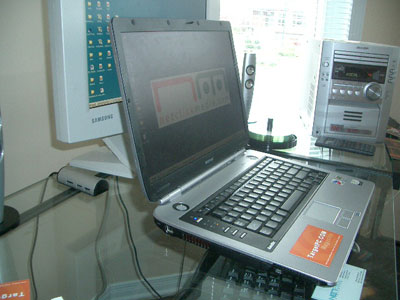 Toshiba
Approx. USD $1400
The Laptop
We received the M30 about two weeks ago without any special notice from Toshiba. While they notified us that they we're sending a notebook for review, we didn't precisely know what exact model or type it was. Upon opening the unit I must say I was quite overwhelmed seeing this slim and light product. Having the HP Pavilion lying around the office for the past 3 weeks we started thinking that all performing notebooks had to be somewhat bigger and heavier in size and boy we're we wrong. Measuring 36CM (14)x26CM (10.2") in width and a mere 2.5CM (0.98") thick is really what made the M30 stand from its contenders. In addition the unit weights 2.9kg quite impressing considering all the features this unit comes with.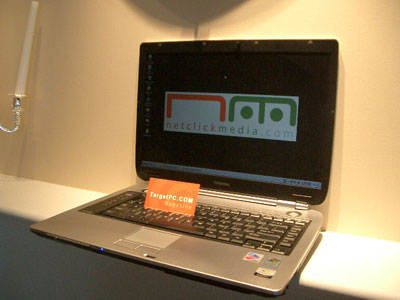 The next eye catching feature is its 15.4 inch screen. While 15" screens seems to be somewhat of a standard size today on any good laptop, what's really unique about it is its form. The M30 comes with a 15.4 WXGA + TFT wide screen that honestly puts any other standard LCD to shame. Looking at other notebooks just isn't interesting enough.

The M30 series are powered by the Intel Centrino M processor. Our model is powered by the 1.5 GHz and of course running on a 400MHz system bus. Basic features include 32KB/8KB of L1 memory along with 1MB of L2. 512MB of DDR memory is present on board and is expandable up to 2GB.
Our model came with a Toshiba 80GB 4200RPM drive. I cannot complain about the space however the 4200RPM seems somewhat low for this type of laptop. I would have preferred to see a faster model to be a standard on this system.

The built in V.92 modem is software based, while software emulation has always been recommended to stay away from, It will not matter that much considering most of today's user don't use a dial up connection anymore. For everyday use such as sending and receiving faxes or even occasional dial up internet the built in Toshiba software modem will do the job just fine.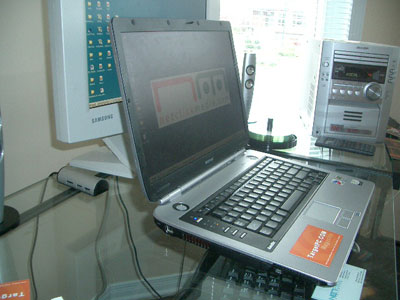 The built in 10/100 Ethernet is powered by the Intel PRO/100VE. The Wireless 802.11 is G only and is as well powered by Intel, to be more precise the Intel PRO/Wireless LAN 2100 3B.

What I should mention on the M30 series is its superior audio quality. Yes we said that the sound on the HP Pavilion was by far one of the best audio solutions, until now. The Harman Kardon stereo speakers do an amazing job, officially taking the best notebook sound yet heard in our labs.

The battery life is of course the big question on this product. Sure it's good to have a slim, powerful and so claimed mobile M30 laptop, but without descent battery life there is nothing that officially puts this laptop against its competition. Under normal work environment without using the CDRW/DVD combo, we managed to get a full 3:09 of power time, quite good considering Toshiba claims 3 hours on the box.

A strong side of the M30 series is its video features. The crisp and clear 15.4" wide screen gives more work space by taking advantage of the maximal resolution of 1280x800 giving a more pleasant experience for the every day user. Coupled with the NVIDIA GeForce GO FX 5200 64MB, the M30 series can transform itself in all in one entertainment system. With this built in video card you get features such as complex shadow and lightning in the latest DirectX 9; giving you the possibility of running some of the latest games at decent resolutions and with anti aliasing levels. The DVD playback along with the wide screen will provide by far the smoothest and most realistic experience without having to use much more power.