HP Pavilion ze5715CA P4 Notebook
Just 10 days ago we took a close look at Cicero's latest slim 120C notebook. While we found it to be a good road companion we did point out some weak points such as the lack of external controls or a video output. Allot of you wrote us back saying that you wanted more laptop coverage, I'm happy to say as I mentioned before, you will be seeing more mobile action around here in the next months. If you got the chance to catch the CICERO 120C review you already know that this specific model from that company was strictly designed for the big traveler. Not everybody could be satisfied with a 12" or with a standard video card. Some of us are seeking for more power to run the latest games or use our laptop as a main office system where you can simply come to the office, plug your LCD and use it as desktop system. In this review we are looking at the HP ze5715CA notebook powered by the Pentium 4 CPU.
The Product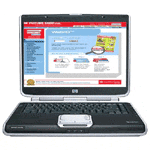 HP
Approx. USD $1100
The features

It's always about first impressions when we first open our review units. We get several packages a day at the office, anything from MP3 players all the way to desktop computer systems. Serving you for the past 5 years and passing already over several hundreds of products definitely gives you an extra edge, or should a sixth sense compared to the average consumer. While we here at Target PC already understood that judging by the looks is not the way to rate a product, I must say that by opening the ze5715CA, I found it quite interesting and had a feeling that this notebook won't get a negative review. Then again that's if judging it by its external view.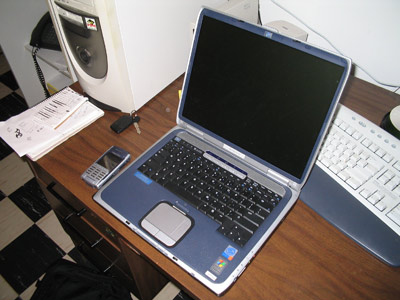 I've been using my Acer Travel Mate P3 laptop for the past 2 years. Having a 14" screen for this period of time definitely gave me a downside when I bought my new notebook with a 12" screen. While I got used to it in the next week, I must say that that by getting a glimpse of the 15" XGA LCD on this product, it made look as if I was switching from a 15" desktop monitor all the way to a 21". The quality of the screen is crisp and clear and doesn't cause any headaches even after working hours in front.
The design of the unit has been well handled. The back features all the main ports, starting with the s-video out, a monitor output plug, a parallel port, ps/2 connection, 10/100BASE-T Ethernet, two USB connections and last the power plug. Going all the way on the left corner, you can notice the 56K V.90/V.92 modem along with a PCMCIA slot. The right hosts a third USB port and all the multimedia connectors, starting with the DVD/CDRW combo, a microphone in jack, headphone output and last a handy audio control unit. The control unit consists of two buttons for volume up/down control and another one for the mute option. The front side as I like to call it hosts multiple blue and orange LEDs used to display different statutes such as the power status, hard drive process and the processor status. Going a bit more to the right you see the infrared module and at last a wireless switch. The wireless switch is illuminated by a blue LED while operating. This switch basically gives you the choice of enabling or disabling the wireless connection with a simple push.