Samsung's 191T LCD Monitor
We all know that LCD monitors are lighter, take less desk space, consume less energy, and are less exhausting for the eye than CRT monitors. We also know that, for these reasons, they are slowly, but indubitably eating up the monitor market.
Features

The Product

1280 x 1024 max. resolution

16.7 Million Colors

Very Low Electromagnetic Emissions

Contrast Ratio 500:1

135 MHz Bandwidth

Plug & Play

Available Silver or Black





Samsung
Approx $1200USD

9/10
Consequently, in these few last months, Samsung has literately showered the market with quite a lot of LCD monitors. From small budgets to High Quality devices, they have done it all. Therefore, in connection with this, a few months ago, we received one of their latest products, the 191T.

It will be the subject of this review as we check out its features and specifications.

The monitor

The 191T is a High Quality monitor. In fact, to make it obvious it features Samsung's "standard" rounded off base and a 0.7 inches bezel. To make this short and sweet, even a quick glance towards the 191T's direction makes you drool (this is no joke; it actually happened quite a few times when different friends of mine saw it for the first, second, third, and forth time).

Two other differences that distinguish this monitor from the rest of them are its viewable size and pixel pitch. The 191T offers 19" of pure delightful display and amazing (for an LCD) 0.294 mm H/V pitch. Frankly, other screens offer slightly better dot pitch, but it doesn't make that much of a difference because everything just looks way better on the 19 inches monitor.      

I would also like to point out the type of keys used for the LCD panel controls of the 191T. Other monitors such as the 171P use digital keys whereas the 191T exploits regular, but slim, buttons. However, that was probably due to the 191T's slim 0.7" bezel.

Before going on to other features, I would really like to point out another distinction: this 19" monitor weighs only 13.0 lbs. Yes, readers, this monitor weighs less (a bit weird, but true) than most 17" inches LCD monitors. I guess sometimes we can't rely on common sense.

Now, let's go on with the rest on its specifications. Let's start with the brightness: a dazzling 250 cd/m2. Trust me, that's bright, but you get used to it! As for the contrast ratio, it is of 500:1. The higher the ratio, the better colors will look in applications such as Photoshop.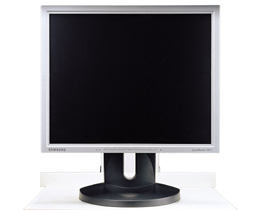 Other features which are worth mentioning are the 191T's viewing angle and the maximum resolution. This screen beneficiate of a 170°/170° (H/V) angle and a 1280 x 1024 @ 75 Hz max resolution. The resolution is quite great for a LCD because there are still some out on the market that only go up to 1024 x 768 which is, for me, not small enough.
In addition to that, this monitor has both analog (female 15-Pin D-sub) and digital (female DVI-D) interfaces. This is great because digital is the future in graphics, but most people still have analog interface. It also use pivot technology (portrait landscape) due to its swivel base.  
Also, the 191T comes in silver or black.
Summary



The 191T is a more than great monitor. In fact, I think that the 191T is just out of many LCDs' league. It just looks nicer and everything displayed on it also looks prettier. As I mentioned before, it's real drooling material. Nevertheless, this all comes with greater costs: a price of 1250$ USD.

Still, this screen is quite excellent with its good brightness level, contrast ratio, viewing angle, analog/digital interfaces, and pivot technology. Therefore, I think Samsung has done another great job with their LCDs.

In the end, after working with this monitor, I would highly recommend it to anyone who is interested in high quality displays. I truly think that the 191T is a great purchase.