The Motorola V400 World Phone
Not so long ago cell phones used to be strictly focused for business communication purposes. Not even 7 years ago a cell phone was considered as a very handy yet very expensive communication device for the business world. Not a lot of people could afford them and they we're very limited in functions. Today a cell phone comes in hundreds of different tastes; from different colors all the way to different sizes and features. You can even find them in age categories nowadays. Not forgetting today's very affordable rates from carriers that could easily replace your home phone with the same or cheaper monthly package.
My cell phone days go back all the way to 1998, around the same time Target PC started. I still remember picking up the classical ERICSSON T28 world phone which was one of hottest phones on the market. Coupled with a 40$ monthly package for 400 minutes I was without doubts one of the coolest guys in college. In this review we are looking at the brand new V series world phone from Motorola; the V400.
The Product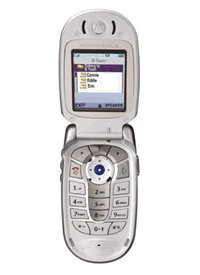 Toshiba
Approx. USD $299
The product
Being in the review business, we went through over 17 cell phones in the past 6 years, that's almost 3 new phones every year. Even before getting cell phones for review for Target PC I still couldn't live with having the same phone for over 6 months, we are always looking for the latest and hottest products around. As I already mentioned in this review earlier one of my favorite phones was the Ericsson T28 that I ended using for over 9 months. Then slightly after I went ahead and purchased the Motorola V60 which I ended using for a very long time. The Motorola V60 was without doubts my favorite phone due its spectacular sound quality and slim size. Since that time I've always seen the V60 phone as a very strong product that even today remains one of the most used phones in the world.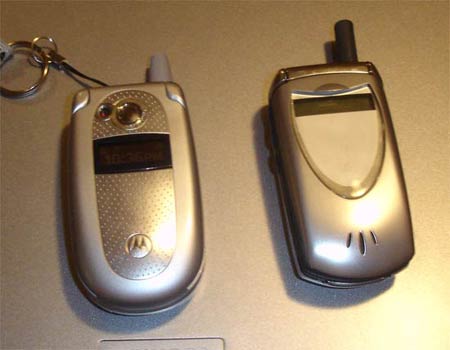 Getting so used to the V60 phone it was hard switching to new cell phones, while some of them had much more cool features I still couldn't forget the V60, not until we received a shipment from Motorola with the V400 phone. The V400 is Motorola's latest V series world phone. My first physical impressions of this phone we're quite strong. Being 8.9x4.9x2.5cm in size, just slightly bigger than the current V60 phone and sharing the same functionality as the V60 was a very strong fact in my perspective. I see it as modified and improved version of its previous contender. The unit weights an acceptable 116grams.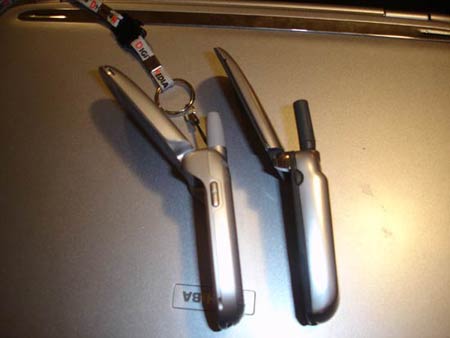 The left side comports a scroller and a smart button that can act as an environment mode change while closed or can be programmed to launch any application on the phone while the flip is open. The right side includes a voice button giving you the option of recording your conversations or simply record notes whenever you want.
The main face of the V400 is built on a nice texture design and spots the integrated 4x zoom digital camera. The built in cam can't of course replace your current digital camera but is by far one of the best quality cameras that we have ever seen on a phone. The picture is very sharp and clear and the built in 5MB phone memory will definitely give you enough space to store some cool memories.