Conclusions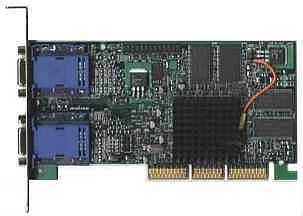 I have to keep reminding everyone that this is a video card that was designed for the business market. In that market stability, 2D image quality and performance, and maximum resolution rule. What Matrox has done by bringing the G450 into the home arena is let home users have access to a card that would be great for a home business user or a professional who needs similar quality to their office computer. Let's breakdown the G450 into a few subcategories:
2D Image Quality: There is no comparison for Matrox's 2D image quality. They built their reputation on it and the G450 doesn't disappoint. Spend all day looking at spreadsheets or word processing? Then you are the type of person who would notice the 2D image quality of the Millennium G450 immediately.
3D Gaming Performance: This is decidedly not the G450's forte. The 3D Mark score screams of a situation where some work with the drivers could go a long way into increasing the score. But that's just it, 3D Mark 2000 is a synthetic benchmark and many a company are going out of their way to tweak their drivers to get a high score. I think Quake III Arena is a more representative example of the performance that users can expect from the G450. At low to middle resolutions you can expect a good gaming experience, especially with a fast processor in your machine. If gaming is your absoulte measure of a card's performance then by all mean look elsewhere. I think that some newer drivers and the inclusion of an overclocking utility would go a long way to help the Millennium G450 in this area.
DualHead Technology: This is THE reason to buy the G450. The versatility of having a second CRT, TV, or LCD display to move your work to is a great aid in productivity. Other cards allow a second display output, notably cards based on the nVidia GeForce 2 GTS or MX core. What most of those cards lack is the flexibility to use a television or flat panel as your second display as they usually require another device to convert the signal into a format that can be used by a television or LCD. Matrox took care of all of those hassles by building all the components into the card and shipping a dongle cable for television use with the card.
DVD Software Decoder: I've used quite a few DVD decoders and this one stands out for its performance and ease of use. I tried my best to hurt the playback performance of the decoder by running all sorts of CPU intensive programs in the background and by messing around with its settings during playback. There were no dropouts and I was very happy with its playback of several DVDs. The layout of this software player is similar to other software players I've used, but its optimized performance with this card makes it a valuable inclusion.
Bundled Software: Yet another strong point for the G450. Matrox included Picture Publisher and Simply 3D, both of which are valuable products for people looking to create 3D images or to edit existing images. I was impressed with the large amount of gaming demos thrown in. Don't have any current software that will utilize the EMBM (Environmental Bump Mapping) or DualHead technology of the Millennium G450? You do now - right out of the box. Matrox even has a patch on the CD for Dungeon Keeper 2 that will enable EMBM.

So what's the final verdict? I don't think that any card out their has the flexiblity of the Millennium G450. There are plenty of cards out there that can outperform it - but I wouldn't want to have to do a lot of work in front of them. I've used this card extensively for a few weeks now and I am a pig in mud when it comes to its 2D image quality. If you spend a lot of time performing word processing, HTML coding, database entry, or spreadsheets then this is the card for you. The fact that you get awesome DVD playback and some decent 3D gaming with it certainly doesn't hurt either. At only $145 I find this a more useful video card than many of the $400 cards that only beat the G450 in 3D gaming performance.
Victor Oshiro January 17,2001