Conclusions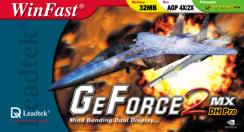 With all the features of this card it isn't hard to see that I liked it as much as I did. The MX DH Pro offers a very high performance to price ratio. If you are afraid that the NV20 will make you regret your purchase decision keep in mind that for $150 you have a great card that will easily spend a long life in a second box.
This card squarely meets the needs of the market segment that worries about missing a car or rent payment in order to buy the top-of-the-line card of the moment. If you aren't blessed with an overabundance of play money then you have nothing to regret when you pick up this card. I was very happy with its DVD playback performance and its 3D performance will satisfy just about every gamer out there.

nVidia originally marketed this card for the business segment. That's an area where people worry about things like 2D display quality and dual display. For the price you get a great card capable of dual display with some very good 3D gaming performance. As a matter of fact, this card posted better performance numbers than Matrox has delivered with the Millennium G450. That should make a lot of people who play games at work happy! If 2D text quality is the most important feature for you pick up the G450. For most business users and certainly the average budget gamer this is the card designed for them.
Victor Oshiro February 20, 2001