APC Back-UPS CS 500
Our last look at an APC based product goes back all the way to 2000 with their at the time top of the line APC Back-UPS 500, what an innovation it was! A white box featuring a power switch along a green LED being able to handle an average computer on its battery for over 20 minutes in addition to a full surge suppressor to protect your newest investment. All of those mentioned claims going for slightly lower than 200$ USD. In fact we loved the Back-UPS 500 so much that we bought 2 to protect our office systems.
Today we all have surge protection to protect our valuable electronic equipment, right? You would be surprised that according to a US based survey slightly over 30% of users actually invests extra money to protect their computers.
A study by IBM has shown that a typical computer is subject to more than 120 power problems per month. The effects of power problems range from the subtle keyboard lockups, hardware degradation to the dramatic complete data loss or burnt motherboards.

According to a survey by the Yankee Group, almost half of the corporations researched put their down time costs at upwards of $1.000(US) per hour, with nine percent estimating costs up to or more than $50.000(US) per hour. Clearly, businesses are becoming more and more reliant on utility power supplies that are pushed beyond their capacity. Of-course these realities don't only concern companies or big corporations. They are also touching a very big portion of home users: a slight power problem could result in anything from losing your precious work to serious hardware damage.
Depending in what area you live, you would be surprised on how unstable the AC quality coming out of your electric socket can be. We never know when disaster can strike. Always think of what could happen if all of your computer or audio/video gear was lost in a split second. Could we afford to replace it, or recover that priceless data?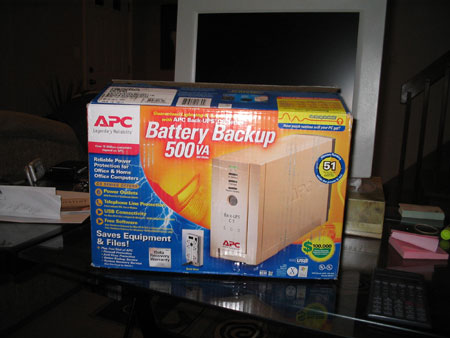 Most consumers and SOHO workers know of the typical suppressors, the models you can purchase for $19.99, but questions remains what do they really protect. While surges can occur very often, you should also take in mind of power outages that can strike your neighborhood at any time. Sometime they can be less painful when you weren't doing anything important on the system but very often people loose a lot of vital information. Wouldn't it be interesting with the use of a battery backup system to get an extra few minutes of power time to take the time and save your files? In this article we take a closer look at APC's Back-UPS CS 500 Uninterruptible Power Supply and surge protector.