The user interface of the menu is well laid out. It's clean and very easy to navigate. The features worth mentioning are the automatic self focus that will adjust your picture every 20 minutes. While it's a good option, I have to mention that sometime it gets annoying getting the self focus status, at a point we simply had to turn it off. For traditional cable users a worthy feature is the favorite channel option that lets you place your most watched channels into categories. Being in the same subject, you can also name every individual video/audio input. For example if video in 2 is set on the DVD Player, you can call it DVD. A V-Chip feature is present for parents wanting to take some control over their kids watching habits.
A cool feature is the still option that lets you freeze a picture of the show you are watching. I would have loved to see some kind of built in memory on the TV that would let you store some pictures in the internal memory. Something I would like to point out for the traditional cable users is the lack of the picture in picture feature. While most of us are using satellite receivers or a digital cable box, I still believe a picture in picture feature could have been a good addition.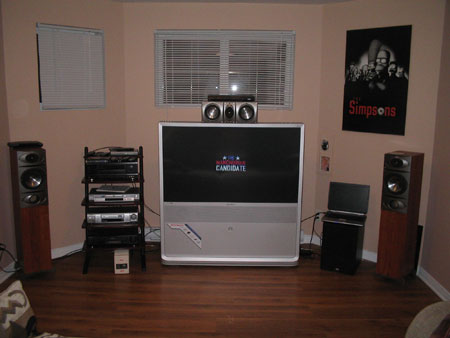 I was very satisfied with the audio quality on the HC-P5241W. The stock sound is quite good; way superior than on most TV's we have seen in the past, however what gives its power is the BBE feature that adds clarity, punch and dynamics to the sound quality. Getting used to the BBE technology it gets hard switching back to the normal sound mode.
Video quality wasn't too impressive. While in average I was satisfied, we we're expecting a clearer picture at all time, but most importantly better average results than on our current Sony 53" screen that has been serving us for over 2 years now. At first we thought that maybe the composite inputs weren't enough so we went along and tried the external s-video input. Same results, we then proceeded to the component input with the same DVD player, the picture got clearer but still not to the point of what our Sony screen was giving us with the basic back s-video connectors. While I wasn't too thrilled with its video results it should still be a good buy for any home owner seeking for an average value priced big screen TV.
The remote control is well laid out and holds a very good design. In addition of controlling the TV, you can program it to control other units such as STB, VCR, CABLE or DVD. In total you get 5 different modes including the TV it self. At the very bottom of the remote you find a full control for your VCR/DVD systems.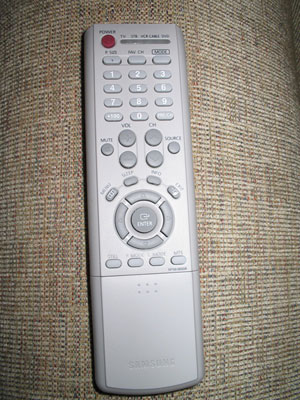 Summation
In average we are satisfied with this 52" wide screen, the design is well laid out and offers some decent features. While I cannot recommend this product to an avid videophile, it should be enough for the average user. The HC-P5241W would make a great addition as a standard TV for any living room without having to break your bank account. If you are looking for optimal picture quality and a lot of differential video/audio inputs you should definitely look elsewhere, perhaps into a more expensive rear projection set or simply get DLP or ACL technology.
6/10
Don Nguyen
04.12.28