[an error occurred while processing this directive]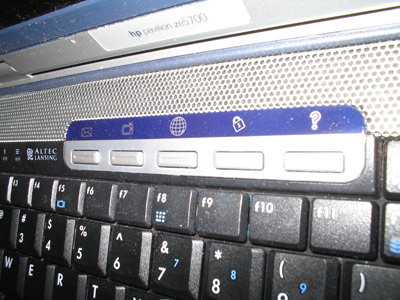 From the inside, what I call the keyboard part you notice the sleek looking Altec Lansing stereo setup along with the HP one touch buttons. While I was never a big fan of shortcut buttons on anything, I found these to be quite useful. The first button is the Mail shortcut, second gives you the option on turning the TV out without having to go in the video settings. Third option is the internet explorer launch, fourth goes with a lock button; letting you lock your current windows session. Last launches the windows XP help. You can notice a large touch pad at the middle; I didn't really like the scroll option on this particular product. Most of us are used to a normal button scroll, however HP decided to implant it in the main touch pad area and simply give it the option of up and down. I found it to be quite annoying and being far from precise. The unit weights 7.5lbs and measures 32.9(W) x 27.2(H) x 4.1(D) cm, it's neither small nor light.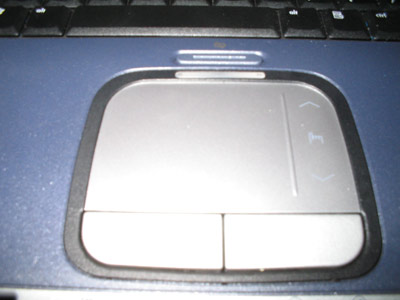 Technical features include a Pentium4 2.66GHz processor on a 533 MHz bus speed backed by 512MB DDR SDRAM (2 x 256MB) at 266MHz. The video is powered by the ATI MOBILITY RADEON 4X AGP and 3D architecture with 64MB DDR (shared), while not the top, it should be more than enough for a pleasant 2D experience and in some cases even 3D. The HP branded wireless card is 801.11B/G compatible, quite good keeping in mind that allot of laptops today only limit you with the G version. I consider the 40GB (4200RPM) Hard Drive a bit small and would have preferred to see at least 60GB. A very important part of the laptop is its battery life. Today pretty much any descent battery can last about 2 hours under normal working environment, anything less is definitely weak. We managed to get 2 hours and 32 minutes of life from the ZE5715CA. A positive point on this product that I would like to mention is its sound quality. The built in 16bit SoundBlaster Pro-compatible audio coupled with the built in Altec Lansing speakers provide by far the best sound I have yet heard on a notebook.
Summation

I found this product to be a good flexible notebook for everyday use. The HP ze5715CA features all the necessary features for the average user. As mentioned before the size of the unit is quite big. Be sure to define your needs before buying it, anyhow this shouldn't be much of an issue considering this unit has not been built for the traveler but instead for the average consumer seeking for a powerful yet mobile system. The design is quite good, no specific complaints on its architecture. Quite frankly I loved the ZE5715CA very much due its clean design and descent features; everything is where it has to be. If you are in the market for a new laptop and size is not a problem, we recommend looking at the HP ze5715CA.

Oleg Mitskaniouk
04.09.18