Conclusions
I can't say enough about the ease of installation that I experienced with this product. Once you've setup one networking adapter the other installs mirror it. All too often we are bombarded by a difficult install with a networking component.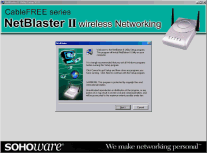 So what are my feelings now that I've used this setup for a few days? One thing Sohoware doesn't advertise but I think they should is the seamless integration with existing networks. The computers on my existing network access the new wireless equipped computers the same as any other. If you are familiar with Windows networking then there is no new learning curve to experience with these new components. Networking protocols are setup the same so there is no need to patch together different setups into a hodge-podge of a networking nightmare.
As with any new technology the early adopters get hit in the pocketbook. The PCMCIA adapter is $149.99 while the PCI adapter is $199.99. That is a little steep but still a reasonable price considering how well they work. What may break the piggy bank is the hub. At $249.99 I know some of you are already gasping. Consider this though. Up to 128 computers can connect through this hub with no additional cost in wiring. The hub does feature 40-bit WEP data encryption which naturally is a step in the right direction when it comes to data security. Another very interesting feature is that this hub can operate with any IEEE 802.11B compliant device. That is some assurance of future usefullness.

I consider this revolutionary technology and think that in the next few years we will see the death of wired networking. How's that for a prediction? I was quite surprised by the stability of this network and have no reservations recommending it to our readers. I'm impressed enough to give it my editor's choice award for its ease of use/setup and the great benefits inherent to wireless networking.
Victor Oshiro March 22, 2001