Round 2: The Features
We will start with Prismiq for the features.
So what is the full potential of the Prismiq Media Player? Here are some of the tricks it has up its sleeves:
- Playback DVD-quality video in MPEG-1/2/4, Motion-JPEG or AVI format
- Play CD-quality audio
- Stream AC3, MP3, WMA, and WAV audio files store on a PC
- Play Internet radio and commercial music services on the stereo or TV
- Display digital photos stored on home computers on the TV (JPEG, GIF, PNG)
- Browse the Web on the TV (Embedded Web Browser)
- View up to the minute news and information on the TV
- Instant Message (AOL compatible) with friends and family on the TV
- Linux 2.4 OS
- IEEE 802.11a/b/g (Wi-Fi), IEEE 802.3 (Ethernet), and IEEE 802.3u (Fast Ethernet) standards
- Optional Wireless Keyboard
As for myself, I really was pleased to see instant messaging capabilities. Moreover, the Internet Radio and News features are a nice plus to have on an already well roundup unit feature wise. Also, the keyboard definitely helps for web browsing and instant messaging. Overall, Prismiq offer a more than respectable set of features.
Now, let's view Actionec's arsenal.
The DMP011000-01 packs quite a punch with its array of features. They are the following:
- Supports MP3, AC3, AAC, WAV, WMA and Ogg Vorbis audio formats
- Supports JPEG, GIF, animated GIF, TIF, BMP, and PNG image formats
- Digital audio: 18-bit stereo and S/PDIF
- Supports MPEG1/2/4, XVID, RMP4, and DIVX video formats
- Digital Optical Output available for true sound fidelity
- Support for HDTV
- Support for Internet Radio
- Surf the web using favorite bookmarks or enter the website URL
- Keep updated with the latest news
- IEEE 802.11b/g (Wi-Fi), IEEE 802.3 (Ethernet), and IEEE 802.3u (Fast Ethernet) standards
- Wireless Data Rates of 11, 5.5, 2 or 1 Mbps
- Operating Range of up to 100 meters indoors and up to 400 meters outdoors
- 40/64 bit and 128 bit WEP Encryption for Security
Actiontec also offers a strong set of features. The digital optical output and the HDTV support are nice options to propose on such a device. In addition, this device supports a few more codec than its competition. All in all, this is also an excellent group of highlights.
So who wins this round? Well, actually we could consider this one a tie. Nevertheless, I would tend to give the victory to Prismiq because of its instant messaging capabilities and its wireless keyboard.
Round 3: The Remotes
Let's start off with the DMP011000-01's remote.
Its remote fits well in the hand. While it is composed of several buttons, after a few utilization you do not feel lost when you use it. Moreover, all its keys are all well grouped. Last but not least, the ENTER key is well placed.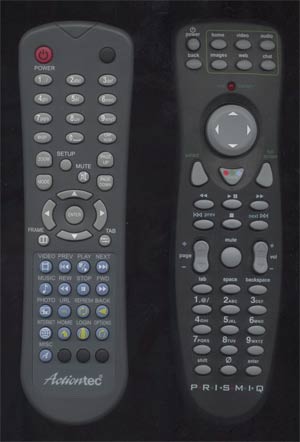 On Prismiq's side, the features remote is also rather enjoyable. However it is a bit wider and possesses a few less keys. Yet, if you chose to buy the wireless keyboard, you will appreciate it even more than Actiontec's offer. The keyboard makes everything easier and more productive. It features everything the regular remote has and more (how about an onscreen mouse?).
If it wasn't for the wireless keyboard, this round would go to Actiontec. Nonetheless, because I had the keyboard to my disposition, I am forced to give it to Prismiq.
Round 4: The Software
Here, Actiontec will be observed first.
Actiontec's Media Buddy is fairly simple to install. Its use is a tad harder because you have to specify in which folder you want firmware to look for data. Still this can be done by a vast majority of computer users. In addition, this application runs on Microsoft Windows 98SE, ME, 2000, and XP (I also think the last time I checked it could be run on a Mac) and requires at least a Pentium II 700 MHz (for video playback) and 60 MB of HDD space. I would also recommend at least 256 MB of RAM for this software (I ran it on a Mini-ITX with only 128 MB of RAM and I experience quite a bit of resources utilization).
Prismiq's counterpart (Media Manager software) is totally effortless to install and to use. First install the software and then let the software detect the media on your PC. It's that easy! For it to run properly, it requires a Pentium III 700MHz for video playback, 55 MB of space. 256 MB of RAM is recommended by Prismiq (though I don't remember encountering lookups). It works on most windows based Operating Systems.
This round finished slightly is favor for Prismiq. It software is relatively simpler to use.
Round 5: The Firmware
Here we battle out the interfaces … Prismiq is up first.
For me, this media player's firmware was practically flawless. This is mostly due to the fact that this interface had the time to mature through several updates since 2002. The music and picture menus are fairly easy to use. Furthermore, the video section of this application is tremendous. Before a video is selected you are able to see a preview (in a Picture-In-Picture style) of it. I must admit that I definitely enjoyed using the Prismiq interface.
As for Actiontec, their firmware is more than acceptable, but it still has some work to be done. While using the DMP011000-01's interface, I've encountered a few slow respond time or lookups. Moreover, the interface does not look as polished as the one from Prismiq. Still, this firmware is easy to use and with the help of a few updates, it should become a robust application.
For this round the choice of the victor is fairly simple. Prismiq wins thanks to its few extra years on the market (which allowed creating a more mature interface).
And The Winner Is …
The fight is now over. Who shall come out victorious?
Quite frankly, I have to declare this a tie. These two products have both their specific strengths and weaknesses. For example, Actiontec's offer comes with a splendid output interface, terrific codecs support, a stylish and healthy look, and a great remote. On the other hand, Prismiq delivers a Digital Media Player with a phenomenal and mature interface, AOL instant messaging compatibility, and a superb optional wireless keyboard. Therefore I officially call this match up a draw!

Furthermore, I would like to bestow both these products with the Value Award. At prices nearing $199 USD, both this products can without doubt be a nice addition to most people's households. These devices truly have a large amount of potential and greatly aid to create a networked entertainment center which eases availability of Internet, video, and audio features throughout the house.



David Dorgerville
04.06.23