Conclusions
| | | | |
| --- | --- | --- | --- |
| | | | |
| Front Cover | Front Fans | Inside | Rear Cover |
I took some extra pictures. One thing that kept nagging at me was my concern that the CD-ROM would stick out like a sore thumb. I was actually pretty happy with the final result. Had it have been up to me I think I would have designed this case with a a hinged door to hide the CD-ROM and other 5.25" components behind. If you are lucky enough to find a gray CD-ROM then it should blend in even better. Click away to see the big versions.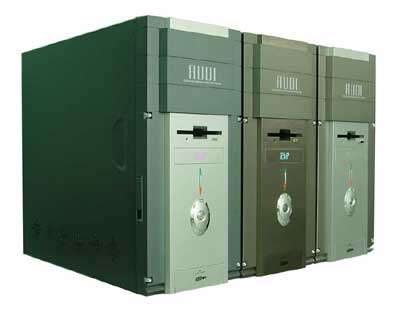 Let me assure you that I know that $179 for a mid-tower isn't cheap. But neither is the mobo, CPU, video card or any other conponent that I'm going to mount into that case. I'd rather spend a little more money on a case that will serve me well over the long haul than just settle for the $60 special down at the local computer store. Considering the amount of e-mail I get from you guys I think that I have a consensus on that opinion. A bright fact here is that $179 includes your shipping anywhere in the U.S. You can expect to pay $159 without shipping.
I wouldn't make a purchase decision on this little tidbit but I thought I'd throw it in so that you'd know what to expect. The green and red LEDs on the front of the case turned out to be very dim when in operation. Acutally the red LED is more orange than red. I certainly wouldn't stay away from a case because of dim LEDs but I thought I'd let you know if that is a big deal to you. Were it not for my friend Mike pointing that out I probably wouldn't have even noticed. Go figure.

So where does this case stand in my opinion? I think the Audi is a great follow up to the Explorer III. The Explorer was pushing the design envelope when it was sent for review but it had a couple of shortfalls. It lacked what I considered to be adequate cooling and its cover was difficult to reinstall. Enter the Audi with its even better cover design and at least the inclusion of an extra 60mm exhaust fan. Even without my inclusion of an extra 80 mm fan the Audi cooled very well. I think anyone who picks up one of these will be very happy with their purchase.
Victor Oshiro 14 February, 2001