Conclusions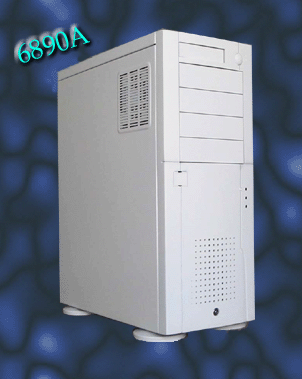 The 6890A still has four external full-size bays for you to stuff your equipment into and one external 3.5" bay for your floppy. For the average person that is more than enough storage and one more full-size bay than a lot of other mid towers offer. So at this point it comes down to me to explain why I happen to like this mid-tower so much. Here goes:
Its really hard to review different cases from the same manufacturer and not get caught up comparing that one manufacturers cases to each other. One thing that really hit me with the two Addtronics full towers was their price. This is not to say that they aren't both excellent cases but that the 6890A came in at a very soothing $134 USD with the 300 watt power supply included. It takes $54 more to get the 7896A with the same power supply. That brings up the question of whether those extra two full-size external bays are really necesary. I suppose that is why so many people kept writing to me about mid-towers in the first place. But compare the 6890A to most mid-towers and it isn't priced all that much higher.
The 6890A has features that other mid-tower cases could only dream of. Lets start with the all-metal construction. The two side doors and all the internal parts of the case are made of metal. The only exceptions are the front cover and the shrouds that hold the fans in the case. Directly behind the front plastic panel is a sheet of metal, and all drives are housed in metal shelves. Addtronics even went the extra mile to include metal drive rails. I had hated drive rails until I came across Addtronics simple and durable design. Then let's talk about the cylinder lock in the front of the case. That's a feature usually only found on equipment bound for the professional sector. Why did so many companies decided that the components inside our cases aren't worth locking up?
Lastly, and most importantly to the serious computer enthusiast/overclocker is cooling. You'd have to take your SawsAll to a standard case to get all the cooling options that Addronics included with the 6890A. When you throw a mixture like that into a case you are bound to have a surefired winner. So now the question becomes how long until you go get yours?